Coffee & Cake with the AFC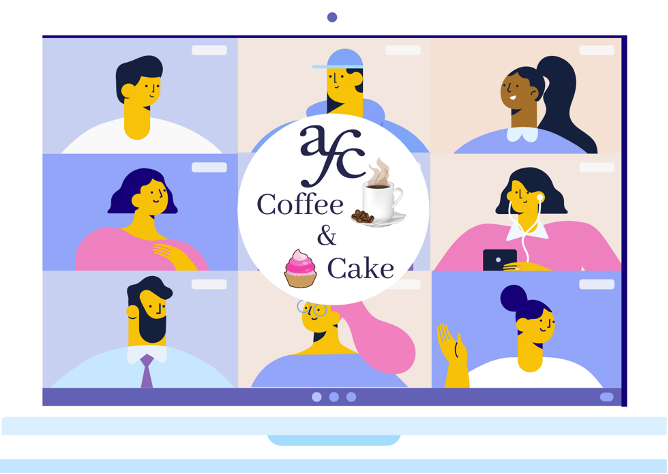 The AFC's Coffee & Cake virtual event on the 20th January 2021 proved to be another successful Zoom session.
The only downside is that the coffee and cake had to be provided by attendees!
After welcoming everyone, Caroline Hutt, the Chair of the AFC and MD of Hutt & Co invited representatives from
IFC, Apple Fundraising, Bonnie Clayton Consulting Compton and Ben Morrison Consulting to introduce themselves.
Caroline clarified that the aim of the session was to see how everyone is getting on as we start a new year and to share useful information with one another. Most importantly, she asked members to share good news! "What is putting a smile on our faces right now?"
Sarah Gray from the IFC said that whilst last year was very challenging, it was also a very positive year for their consultancy, especially in the last four to five months. During this time, they have been working with a handful of international clients including one where they successfully pitched for the one of the United Nations new charities. From a work perspective, the mood feels positive and that opportunities had not totally disappeared.
John Baguley, Chairman of IFC, commented that there is a very 'positive vibe', which he attributed to a combination of the results of the recent US Presidency election and the development and roll out of the Covid vaccination programme. It is good for business, John stated, as people will be more willing to take chances and launch new initiatives.
Bill King, CEO of IFC and Vice Chair of the AFC, reiterated John's points and added that there is a sense that the end is in sight with the pandemic which gives hope for all businesses, including the charity sector. People are starting to think beyond mere survival.
Caroline's main clients are schools and she confirmed that fundraising campaigns came to a halt last March but that Heads had started to get in touch now. She hopes that feasibility studies will resume during the summer term.
Robin Langrishe of Compton confirmed that they had a similar experience to that of Hutt & Co with all projects and campaigns put on hold. Business has now started to pick up again.
Ben Morrison of Ben Morrison Consulting commented that, in his experience, charities are moving away from emergency appeals to taking a more proactive approach. Many of his clients have pivoted their campaigns to virtual concepts that range from hour long celebrity telephone campaigns to highly successful crowdfunding/match giving campaigns. Some charities are now raising more via these methods such as virtual dinner galas for example, they can reach so many more people. However, as these virtual events start to become repetitive, there is a concern about donor fatigue. They are trying to find solutions and are questioning if people will want to go back to old methods of fundraising once the pandemic and lockdowns are over.
Ben explained how he has run these fundraising events, emphasising the importance of having engaged ambassadors who help run the events as team leaders. He mentioned Charidy and Charity Extra that specialise in this area.
Robin confirmed that the Noahs Ark charity had done really well online using similar methods and he too hopes that donor fatigue does not set in.
Bonnie Clayton of Bonnie Clayton Consulting said she has found corporate support increase as companies feel like they want to contribute to the national effort. Bonnie noted that employee engagement has increased. She confirmed that she was really busy at the start of the first lockdown, business then slowed down but she has noticed that more enquires are now coming through.
Nicole Gray Conchar of Apple Fundraising confirmed that her consultancy has been really busy with 90% of their work connected to the US. The pandemic has brought very little change although she has found that building relationships virtually is more challenging than face-to-face.
Sarah thought that in the future the fundraising sector will use a combination of online and traditional methods. John agreed, saying that an event may also include a large screen where people unable to be there in person can attend virtually and be part of the fundraising drive.
Caroline asked everyone for their preferred topics for future Coffee/Tea & Cake sessions. People would like to hear about marketing and what is working, including predictions about the future fundraising landscape and sharing insights and experiences.
When the coffee cups were dry and only crumbs left on everyone's plates the session came to an end.