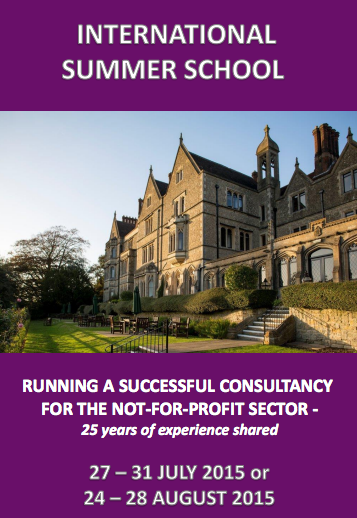 The Action Planning International Summer School Programme is designed specifically to bring consultants and those aiming to become consultants together in a series of modular workshops. David Saint uses his 25 years of experience & expertise in the not-for-profit consulting sector to deliver a programme designed to meet the needs of professionals regardless of their level of consultancy.
The school has a number of expert guest speakers for everyone to learn from as well as learning from each other and each and everybody's successes and failures.
David's summer school aims to give each consultant or aspiring consultant the space, ideas and expert interaction to be able to plan ahead. The school will incorporate many different learning formats and will include Expert Mentoring.
RUNNING A SUCCESSFUL CONSULTANCY FOR THE NOT-FOR-PROFIT SECTOR – 25 years of experience shared.
27-31 JULY 2015 or
24-28 AUGUST 2015
Nutfield Priory & Spa Hotel – Surrey RH1 4EL
A 10% discount off course fees for all AFC Members. Please mention that you are an AFC Member when booking for the discount to apply.
The programme is designed to be tailor-made to cater for each and every consultants needs. For more information regarding the course and booking please click here.