LICHFIELD CATHEDRAL- THE RACE TO SAVE HERKENRODE GLASS
The Herkenrode Glass windows in the Lady Chapel at the East End of Lichfield Cathedral date from the 1530s, and are an inspiration and the focal point of the spiritual life of the Cathedral. Tarnside was appointed to develop an appeal and to provide fundraising consultancy and support to raise the £3.7 million needed to save the glass and restore the East End in which it is housed. This was successfully achieved in 2010 with grants from English Heritage and charitable trusts, reserve funds and significant private donations.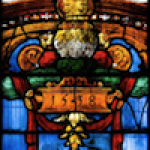 "Tarnside gave the appeal focus and momentum - they were critical in recruiting and nurturing some key champions to the cause which helped ensure its success."
The Very Revd Adrian Dorber, Dean of Lichfield
"The insight and experience brought to the appeal by Tarnside was the single most important element in making it a success."
Lady Fender, Lichfield Cathedral Council
2021-03-14T16:11:20+00:00
The Herkenrode Glass windows in the Lady Chapel at the East End of Lichfield Cathedral date from the 1530s, and are an inspiration and the focal point of the spiritual life of the Cathedral. Tarnside was appointed to develop an appeal and to provide fundraising consultancy and support to raise the £3.7 million needed to save the glass and restore the East End in which it is housed. This was successfully achieved in 2010 with grants from English Heritage and charitable trusts, reserve funds and significant private donations. "Tarnside gave the appeal focus and momentum - they were critical in recruiting and nurturing some key champions to the cause which helped ensure its success." The Very Revd Adrian Dorber, Dean of Lichfield "The insight and experience brought to the appeal by Tarnside was the single most important element in making it a success." Lady Fender, Lichfield Cathedral Council
https://afc.org.uk/testimonials/lichfield-cathedral-the-race-to-save-herkenrode-glass/