AFC Sessions 2021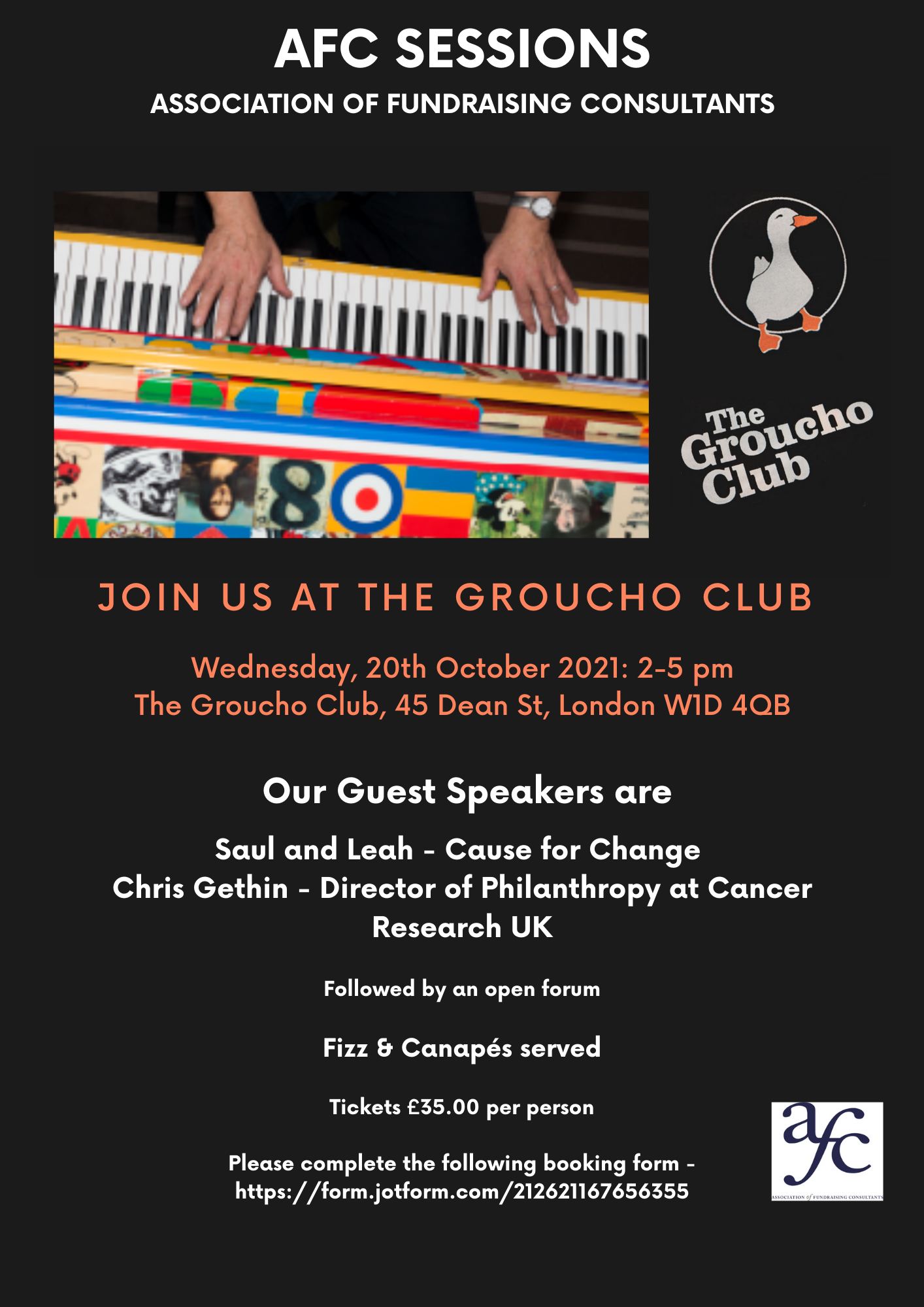 Join Us at The Groucho Club and listen, learn, share & network while enjoying fizz and canapés.
Tickets are £35.00 – https://form.jotform.com/212621167656355
Please see below for further information on our guest speakers.
Saul Annett
Saul is Cause for Change's founder and all-around tech nerd.
In his past life, Saul was a leader in the digital sector. He helped one start-up grow to become the largest digital UX agency in Europe. He has spent over a decade since applying his commercial experience in corporate fundraising and consultancy, before launching Cause for Change.
Leah Annett
Leah is Cause for Change's creative director.
In her past life, Leah set up and ran commercial divisions specialising in creative brand partnerships. She has helped some of the world's biggest brands (e.g. Carlsberg, LEGO, Amazon) create partnerships with heart and soul. Saul & Leah speech is titled – Nobody's and everybody's business – What our research with company leaders taught us about corporate partnerships. Insights to inform how you approach and work with business.
Chris Gethin
Chris is Director of Philanthropy at Cancer Research UK. Chris has over 25 years' leadership and fundraising experience, within the charity and higher education sectors. Chris currently heads up the high-value relationship team at CRUK. Previously, he led the Advancement teams at the University of Surrey and City University of London. Chris has just completed his MA in Philanthropy Studies at the University of Kent. Chris's speech is titled – 'Reflections on the pandemic – impact, response and learnings, particularly in relation to Cancer Research UK's high-value fundraising'
It will be so nice to see everyone so please book your tickets and spread the word.