Tarnside is a consultancy that helps charities and not-for-profit organisations deliver life-changing improvements through fundraising. We work with causes we respect, and with whom we can empathise. We endeavour to work with integrity and humour and use our collegiate approach and skilled office team to maximise value to our clients.
We have an unparalleled reputation for supporting charities in their work, and for delivering major fundraising campaigns. Our work with charities delivers an exceptional return on investment of between £23 and £77 (against a UK average of £3), and we have supported charities in securing tens of millions in funding.
Current and recent fundraising campaigns on which we have worked include:
Chetham's School of Music: £35M raised to build a new school;
Cheshire Community Foundation: £5M raised in 2 years for the county;
The Calvert Trust: a successful £3.3M campaign to build a state of the art water centre;
Abbeyfield: £8.9M raised for a capital appeal (this case now features in the Open University's 'Winning Resources' course as a Case Study).
We also work with clients to provide guidance, support and deliver change. Current and recent clients include:
Kellogg College, University of Oxford
Widehorizons Outdoor Education
The Community Foundation for Wales
World Wildlife Fund
The Christie Foundation
The Devonshire Educational Trust
Marrick Priory
We help charities achieve their goals through:
Think Tanks – a low risk route to assessing strategy and creating organisational alignment
Feasibility Reviews – the essential pre-cursor to a successful campaign. A structured process that gives you the knowledge required to proceed effectively
Major Donor Development – developing and implementing an effective strategy for bringing in the crucial major gifts
Personal Mentoring – supporting senior executives through the processes of fundraising and leading change
Revenue Fundraising – assessing current income streams; identifying gaps and opportunities; developing a strategy; supporting and up-skilling staff
Case Studies:
Lichfield Cathedral – The race to save Herkenrode Glass
The Herkenrode Glass windows in the Lady Chapel at the East End of Lichfield Cathedral date from the 1530s, and are an inspiration and the focal point of the spiritual life of the Cathedral. Tarnside was appointed to develop an appeal and to provide fundraising consultancy and support to raise the £3.7 million needed to save the glass and restore the East End in which it is housed. This was successfully achieved in 2010 with grants from English Heritage and charitable trusts, reserve funds and significant private donations.
"Tarnside gave the appeal focus and momentum – they were critical in recruiting and nurturing some key champions to the cause which helped ensure its success."
The Very Revd Adrian Dorber, Dean of Lichfield
"The insight and experience brought to the appeal by Tarnside was the single most important element in making it a success."
Lady Fender, Lichfield Cathedral Council
Chetham's School of Music: Capital Appeal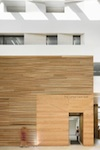 The Trustees of Chetham's School of Music made a brave decision to choose £36M as the target of their first major fundraising appeal, in order to create a new home for the UK's premier music school. They chose Tarnside to guide the campaign, which began at a time of economic uncertainty but concluded successfully with the funding in place and building under way.
"Tarnside provided us with a professional fundraising service and template which guided us in introducing potential donors and supporters to the exceptional qualities of the staff and students of Chetham's School."
Paul Lee, Chairman of the Feoffees of Chetham's School
Cheshire Community Foundation: A new charity for Cheshire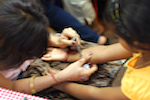 Tarnside worked with this Foundation to secure £5M in a campaign that epitomised fundraising success in difficult times. The CCF grew from little more than an idea in 2010 to a functioning charity at the beginning of 2012, with a passionate board, a new Chief Executive and a level of funds that would be the envy of any fledgling charity.
"Patrick has a great way with him. He was very good at preparing us for the meetings. At a time when the CCF was without a CEO and all run by non-executives, Patrick provided the glue."
Joelle Warren, Cheshire Community Foundation